TNT Carport Collapse
In New England, we have some serious weather — snow, rain, sleet, hurricanes — and our structures are built to withstand the abuse. Many homes in Massachusetts have been around for more than 100 years. "Built to last" doesn't mean it will collapse in less than one year. This is exactly what happened to a carport owned by someone I know. Below is his story. Anyone considering buying a carport from TNT Carports should read this account and view the photos before making a purchase.
From the sounds of it, the manufacturer and reseller are both unwilling to work with him to make this right. I'm not sure if there was any guarantee of structural integrity, so maybe these companies are off the hook legally... but they should stand behind their product when things like this happen. Though maybe not stand under it for safety reasons.
Lessons learned here when considering a carport: Always check with the Better Business Bureau for complaints. Also search the internet for product reviews, although these are not always valuable. People are more likely to complain about a bad experience than share praise for a good experience. Searching for "TNT Carports" on Google brings up the official manufacturer website, but many of the other results look like complaint pages. PissedConsumer.com, BBB.com, ComplaintsBoard.com, and RipoffReport.com are a few.
---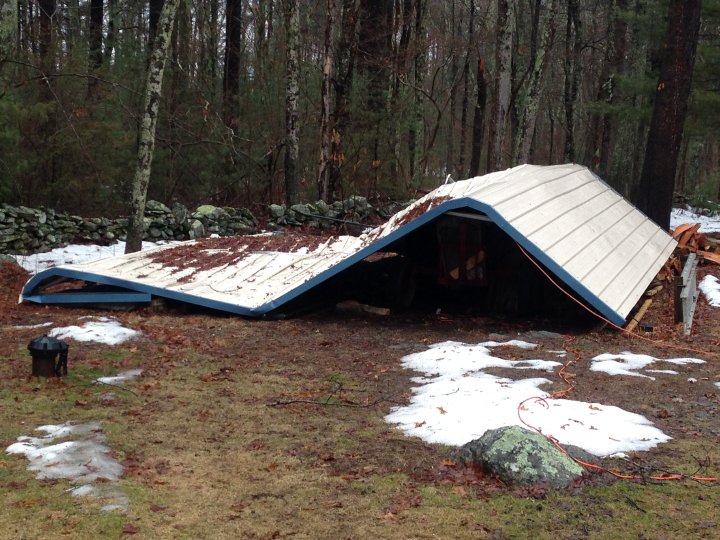 This is my TNT Carport. It was delivered within the time promised, and a crew of three erected it in one hour in August 2014. In February 2015 it collapsed as shown, crushing a $100 wheelbarrow, a cord of firewood, and my 1952 Ford tractor. The TNT Company refuses to send anyone to see what can be salvaged. The dealer, Rich Sousa of Somerset Auto Sales, also refuses to make the six mile trip to see what can be done, and what he sells. I do not recommend this company.
PG
Rehoboth, MA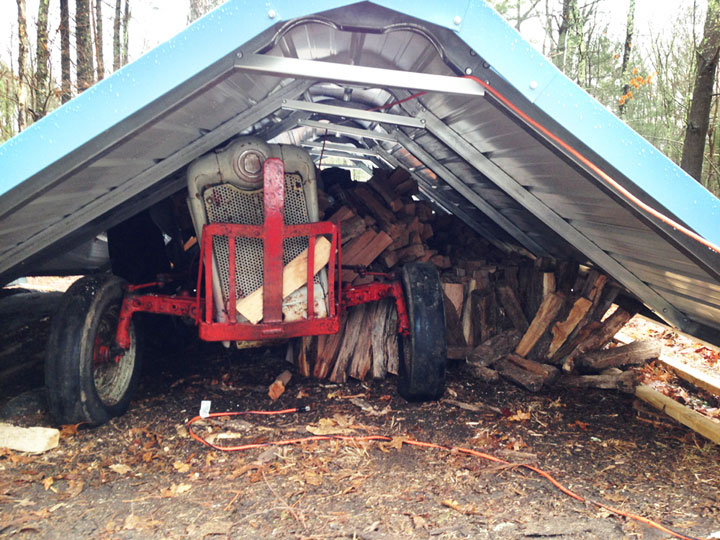 ---
This article was posted May 23, 2015.